Judge Holly Williamson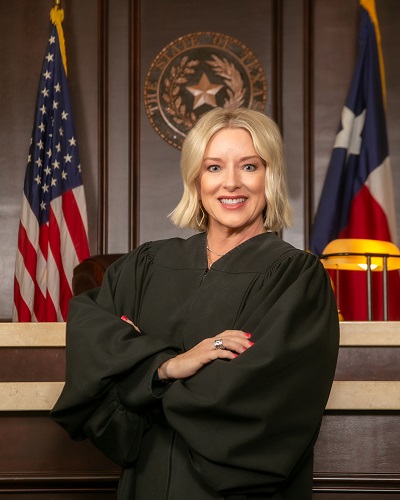 Judge Holly Williamson was sworn in as Presiding Judge of Harris County Justice of the Peace Court (Precinct 8-1) on January 1, 2009. She also served as Co-Presiding and Presiding Judge for the sixteen Harris County Justice of the Peace courts from 2010 - 2015, 2019 - Current.
Born
Born at Barksdale A.F.B, Bossier City, La
Married to Dr. Danny Williamson since 1987
One daughter graduate of Texas A & M University.
Biography:
Education:
Bachelor of Business Administration, Economics
Southwest Texas State University (Texas State)
Doctor of Jurisprudence
University of Houston School of Law
Licensed to practice law by the Supreme Court of Texas in 1997

Professional Memberships/Community:
State Bar of Texas
Houston Bar Association
Pasadena Bar Association
Justice of the Peace Constable Association - 3rd Vice President
Texas Association of Counties - Board Member
Methodist Hospital - Clear Lake - Board Member
TCDRS - Member of Board of Trustees
Texas Bar Foundation - Fellow
Clear Lake Chamber
Pasadena Chamber
La Porte Chamber
Association of Business and Professional Women
Clear Lake Pan-Hellenic
San Jacinto YMCA, former Chairman of the Board
YMCA Volunteer of the Year 2003
The Bridge, former Ambassador, Chairman of the Board
Woman of Distinction Nominee, 2001
Active member of St. Martins Episcopal Church, Houston, Texas
Awards
Judge of the Year 2018, awarded by JPCA
Women of Distinction
awarded by The Bridge Over Troubled Waters, Inc., (The Bridge) a comprehensive crisis center assisting survivors of domestic and/or sexual violence and those who are homeless due to these circumstances or another crisis.