Judge Jo Ann Delgado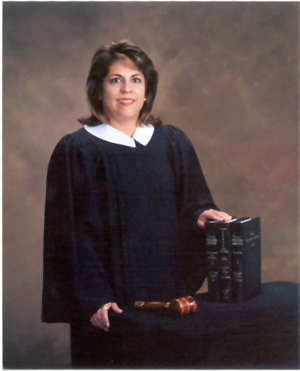 Judge Jo Ann Delgado was elected Justice of the Peace, Precinct 2, Place 1 of Harris County-the 4th largest county in U.S.-in January 2001. She was re-elected to a fifth term in 2016 (unopposed). Judge Delgado made history as elected the first Hispanic female to hold the office of Harris County Justice of the Peace.
Judge Delgado brings to the bench more that 41 years of Justice Court and County Court Administrative experience.
As the justice courts continue to evolve the responsibility of presiding over school related issue is one major role the judge must preside over. This has been Judge Delgado's greatest challenge yet most rewarding. Judge Delgado is committed to ensuring that students achieve academic excellence and meet graduation requirements.
Born:


San Antonio, Texas
Third generation Texan
Married to Danny Puente
Resident of Houston for the last 45 years.


Education:


Graduate Charles H. Milby High School
A.A. Houston Community College
B.A. Business Administration, LeTourneau University
Certified Mediator, Dispute Resolution Harris County


Professional/Community Involvement:


Presiding Judge – Harris County Justice Courts 2007-2009
Texas Supreme Court Task Force
Texas Justice Court Training Center – Faculty Instructor
Justice of the Peace/Constable Association
Texas Justice Court Judges Association
Texas Municipal Courts Association
American Leadership Forum
Project Blue Print of Houston
Harris County Juvenile Board
East Harris County Juvenile Board
Harris County Precinct 1 Commission on Children
Sagemont Church
Sageglen HOA
Volunteer Cossaboom YMCA
South Belt Ellington Chamber of Commerce
South Houston Chamber of Commerce



Awards:


Outstanding Leader Girl Scouts of San Jacinto
Latinas taking the Lead
Women Trailblazer San Jacinto College South
Leadership Award Houston Community College
Citizen of the Year South Belt Ellington Chamber
Humanitarian Award Houston Counseling Association
100 Hispanic Women in Leadership Award
Distinguish Member of College of Justice Court Judges
Pace Youth Program Community Service Award
Tejano Center Community Service Award
Harmony Public School Public Servant Award
Solo Mujeres Magazine Sucesos – Mujer Del Ano En La Politica