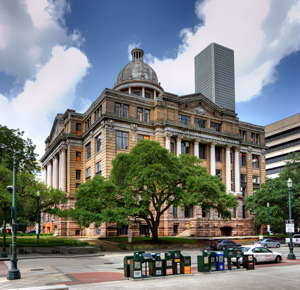 Effective September 1, 2020, justice courts have jurisdiction over civil matters with claims of no more than $20,000.
Click here for UPDATE ON EVICTION CASES (as of February 15, 2021)
COVID 19 OPERATING PLAN
Pursuant to the Supreme Court's Thirty-Third Emergency Order
viewable here
, in-person jury service is cancelled for all Harris County Justice Courts through April 1, 2021. Please check an individual court's page (using the drop down menu above) for further information.
Also in accordance with the Supreme Court's Twenty-Ninth and Thirty-Third Emergency Orders, dockets in the Harris County Justice Courts will be conducted virtually. If a party is unable to appear remotely (via Zoom), the party must notify the court for alternatives or a determination to arrangements in-person. Any proceedings conducted in-person will be conducted in compliance with the Emergency Orders issued by the Supreme Court of Texas and Texas Court of Criminal Appeals and according to the guidance issued by the Office of Court Administration regarding social distancing, maximum group size, and other restrictions and precautions. You may view the orders and guidance
here
. The current Harris County COVID-19 Operating Plan is viewable
here
. Live streamed proceedings can be viewed
here
.
IF YOU ARE EXHIBITING ANY COVID-19 OR FLU-LIKE SYMPTOMS, including fever, chills, cough, shortness of breath or difficulty breathing, fatigue, muscle or body aches, headache, sore throat, loss of taste or smell, congestion or runny nose, nausea or vomiting, diarrhea -- OR IF YOU HAVE RECENTLY BEEN IN CLOSE CONTACT WITH A PERSON WHO IS CONFIRMED TO HAVE COVID-19 OR IS EXHIBITING ANY SYMPTOMS DESCRIBED ABOVE -- YOU ARE ENCOURAGED TO CONTACT THE COURT BEFORE APPEARING.
Individuals who are age 65 or older and individuals with serious underlying health conditions, such as high blood pressure, chronic lung disease, diabetes, obesity, asthma, and those whose immune systems are compromised such as by chemotherapy or other conditions requiring such therapy are considered to be vulnerable populations and may contact the Court to identify themselves as such to receive accommodations.
The Court may allow or require anyone involved in any proceeding to participate remotely, such as by teleconferencing or videoconferencing.
Please be aware that all courthouse visitors are subject to screening upon entering the building/courtroom. You may have your temperature taken with an infrared (contactless) thermometer and/or may be asked if you are feeling feverish; have a cough, shortness of breath, or difficulty breathing; or have been in close contact with a person who is confirmed to have COVID-19. Individuals whose temperature exceeds 100.4 °F or individuals who indicate yes to any of the screening questions may be refused admittance to the building.
All courthouse visitors not from the same household will be required to maintain social distancing of at least 6 feet and practice appropriate hygiene recommendations at all times while in the building. You are required to wear face coverings at all times while in the building, and the Court reserves the right to turn away any individual who declines to wear a mask if so requested.
For information on how to make and properly wear a home-made face covering, visit the CDC's website
here
or view the Harris County Public Health Department's notice on properly wearing face coverings
here
.
For information from the Harris County Public Health Department on how and where to get tested for COVID-19, click
here
.
---
For further information applicable to specific court(s), please see the individual court's webpage by using the COURTS drop down menu located at the top of this page, and choose the court in which you are interested.
We continue to encourage litigants to file all civil and some criminal filings through
efiletexas.gov
(see link to the right) or through other such means as the individual court may permit. We also encourage defendants who are wishing to sign up for driving safety courses, enter no contest pleas and pay their criminal citations, pay deferred disposition costs (new option), or make partial payments on judgments (new option) to use the Online Payment options. Search for your case below to see if you are eligible for any of these options.
Please keep in mind that the Harris County Justices of the Peace and the clerks of the Harris County Justice Courts are not allowed to give legal advice. You are urged to review the applicable laws and to consult an attorney of your choice for further information or answers to specific legal questions.
Online Services for Criminal Cases
Apply for Driver Safety Course
Defendants with eligible offenses may use this service to apply for the Driving Safety Course or Motorcycle Operator Training Course dismissal and to pay the required court costs.
You will be asked to pay court costs as part of the application process. Do not take the course before you receive approval from the Court.
If you intend to apply for a driving safety course or motorcycle operator training course, do NOT pay the citation.
-OR-
Pay Your Citation
Defendants who are not otherwise required to make a personal appearance in court may use this service to pay their citations online with a credit card. You may search for your case at the link below to see if your case is eligible for online payment.
If there has been a warrant issued for your arrest for your failure to appear or failure to pay, you may still be eligible to pay online. However, the warrant will not be recalled until payment is received by the court. This can take up to the next business day.
If you are convicted of a criminal offense, the sentence will include payment of a fine and court costs. If you are unable to pay that amount, bring this to the court's attention immediately. The judge can provide you with alternatives to full payment if you are determined to have insufficient resources or income to pay all or part of the fine or costs. For more information, consult an attorney or contact the court.
Find Information about Cases and Dockets