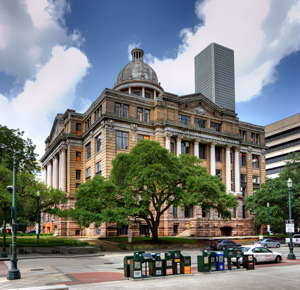 Harris County 1910 Courthouse
Update on the CARES Act and Justice Court proceedings:

The Harris County Justice Courts will begin issuing citations in residential eviction matters on May 19, 2020 consistent with the guidelines set out by the Texas Supreme Court in its Fifteenth Emergency Order, viewable here. For any eviction proceeding filed from March 27, 2020 through July 25, 2020, the sworn petition for eviction must contain a statement that the premises is not subject to the moratorium on evictions imposed by Section 4024 of the CARES Act. The temporary moratorium provides that landlords of covered properties (federally subsidized apartments including those supported by HUD, USDA, and the US Treasury; and homes covered by federally-backed mortgages) may not file a new eviction cases for nonpayment of rent for 120 days from the Act's effective date of March 27; furthermore, landlords may not serve any notice to vacate until the 120 day period has expired and such notice must give at least 30 days. For more information, please see the COVID-19 FAQs for Public Housing Agencies published by the US Department of Housing and Urban Development here.

The required statement can be included in your sworn petition for eviction or you may submit a separate affidavit. Click here for a sample affidavit.

The Harris Court Justice Courts will also resume processing consumer debt cases consistent with the Supreme Court's Sixteenth Emergency Order (view here). The Order requires judgment creditors and receivers to provide additional notice to judgment debtors, in the same manner prescribed for service of a writ of garnishment under Rule 663a of the Texas Rules of Civil Procedure, that reads as follows: IF YOU RECEIVED A STIMULUS PAYMENT FROM THE IRS UNDER THE CARES ACT, THE AMOUNT YOU RECEIVED MAY BE SUBJECT TO A COURT STAY PROTECTING THOSE FUNDS DURING THE CURRENT EMERGENCY. YOU HAVE A RIGHT TO REQUEST A HEARING WITH THE COURT, AND THE COURT WILL CONSIDER YOUR REQUEST ON AN EXPEDITED BASIS.

Please keep in mind that the Harris County Justices of the Peace and the clerks of the Harris County Justice Courts are not allowed to give legal advice. You are urged to review the applicable laws and to consult an attorney of your choice for further information or answers to specific legal questions.
---
THIRD AMENDED STANDING ORDER FOR ALL HARRIS COUNTY JUSTICE COURTS REGARDING COURT PROCEEDINGS PENDING COVID-19 STATE OF EMERGENCY

Click this link to view the Third Amended Harris County Justice Courts Standing Order Regarding Court Proceedings Pending COVID-19 State of Emergency. You may view the referenced Supreme Court Emergency Orders here.

Please see the individual court pages (below) for further information applicable to specific courts.

We continue to encourage litigants to file all civil and some criminal filings through efiletexas.gov (see link to the right) or through other such means as the individual court may permit. We also encourage defendants who are wishing to sign up for driving safety courses, enter no contest pleas and pay their criminal citations, pay deferred disposition costs (new option), or make partial payments on judgments (new option) to use the Online Payment options. Search for your case below to see if you are eligible for any of these options.

If you are exhibiting any COVID-19 symptoms or if you believe you may have been exposed to COVID-19, we encourage you to contact the Court before appearing. The Court may allow or require anyone involved in any proceeding to participate remotely, such as by teleconferencing or videoconferencing.

This order remains subject to modification and/or extension at any point.
Online Services for Criminal Cases
Apply for Driver Safety Course


Defendants with eligible offenses may use this service to apply for the Driving Safety Course or Motorcycle Operator Training Course dismissal and to pay the required court costs.

You will be asked to pay court costs as part of the application process. Do not take the course before you receive approval from the Court.

If you intend to apply for a driving safety course or motorcycle operator training course, do NOT pay the citation.
- OR -
Pay Your Citation


Defendants who are not otherwise required to make a personal appearance in court may use this service to pay their citations online with a credit card. You may search for your case at the link below to see if your case is eligible for online payment.
If there has been a warrant issued for your arrest for your failure to appear or failure to pay, you may still be eligible to pay online. However, the warrant will not be recalled until payment is received by the court. This can take up to the next business day.
If you are convicted of a criminal offense, the sentence will include payment of a fine and court costs. If you are unable to pay that amount, bring this to the court's attention immediately. The judge can provide you with alternatives to full payment if you are determined to have insufficient resources or income to pay all or part of the fine or costs. For more information, consult an attorney or contact the court.
Helpful Links

---

Find Your Courthouse
Contact the Courts
Court Web Streams

Rules of Practice in Justice Courts
Rules of Civil Procedure
Rules of Evidence
Harris County Local Rules
Self-Help Resources


Information for Jurors
Information for Criminal Citations
Information for Tow Hearings


Find My Towed Car
Outstanding Bond Forfeiture Judgments
Texas Monthly Appointments and Fees Report

eFile Texas
Odyssey Web Portal


Frequently Asked Questions
Harris County Courts
Harris County Homepage